Everyone can become a member of the AFC Utrecht Dominators. Man or woman, young or old, large or small, flag of tackle, everyone is welcome. There is a game type and position for everyone. Via this link you can download the registration form => Download Registration form. Or try American Football first by participating in our special TryOuts.
For the time being, the articles of association are only available at the club house (Manitobadreef 4, Utrecht). You can view the internal regulations HERE. Information about membership fees can be found HERE.
U-pas discount
The Utrecht Dominators offer U-pass discount on the contribution. Do you want to know whether you are also eligible for a U-pass? Look for more information at http://www.upas.nl/.

Student discount
Students receive a 15% discount on the club contribution by e-mailing a copy of a valid student card to penningmeester@utrecht-dominators.nl after payment of the total contribution. The discount will then be refunded by the treasurer.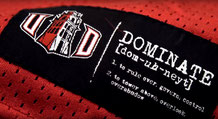 Cooperation between Utrecht Dominators and Club Collect
From the 2016-2017 season, Utrecht Dominators works with Club Collect to collect the contribution. This allows our members to pay in multiple ways. For more information about Club Collect, visit http://www.clubcollect.com/. For questions about this cooperation, please contact the board.

Membership termination
The cancellation of a membership must take place before 1 July. Send a letter to the secretariat or email to bestuur@utrecht-dominators.nl or utrechtdominators@gmail.com. There will be no refund of dues on interim cancellation after the start of the season on 1 August.